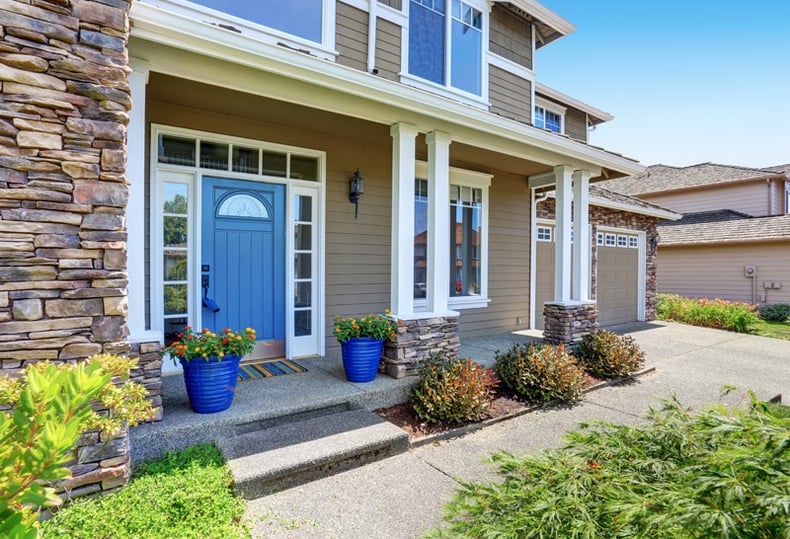 When It Comes to Your Home's Curb Appeal, It's What's On the Outside That Counts.
If you're like most homeowners, you spend a lot of time fussing over your home's interior – wall colors, furniture, lighting and wall art. But what about the view from the street? Unfortunately, the elements that create your home's "first impression" aren't always given the importance they deserve. Whether you want to attract buyers or just re-fall in love every time you come home, let's tackle the challenge.
Take It Away
One of the biggest pitfalls when creating a welcoming entrance is to over-decorate. Clutter is enemy #1, and should be avoided above all if you want to improve curb appeal. Keep the doorway to your home free and clear, with no physical obstacles interfering with "the welcome." (If a potted plant keeps the door from opening fully, you know what must be done!) Free the yard from weeds, tangled hoses, yesterday's newspaper and that broken lawn chair you've been meaning to toss.
Your Home's "Jewelry"
The doorknob, doorbell, mailbox, outside lights, doormat, doorknocker, house numbers – these "small" pieces can make or break curb appeal. Put your own preferences aside and choose them in keeping with the style of your home. (You wouldn't use a mid-century modern light fixture on a Victorian porch.) Match accessories in color or material, so you don't end up with brass house numbers and a brushed nickel doorknob.
The Wow of Color
You have a favorite color, so why not go for it when choosing the shade of your home's front door? Browse online, and you'll discover the impactful drama of colorful doors, from violet to teal, from celery green to scarlet red. A beautiful door can inspire a whole yard. Imagine a path of beautiful hydrangeas leading to your royal blue door, or window boxes bursting with daisies to match a golden yellow door. Choose pots deliberately for their pops of color – an affordable way to energize your vision.
Don't Curb Your Enthusiasm
Here are some more small but powerful tips to improve the curb appeal of your home:
Symmetry makes a powerful statement. Picture matching ceramic pots bursting with the same blossoms, on either side of the front steps or two beautiful oiled bronze lantern lights framing the front door.
Safety is a homeowner's creed. Be sure your home – especially the doorway – is well lit, with a welcome mat that is secure.
Simplicity is often underrated. If you don't have the energy or time to landscape your front yard, opt for a few spectacular ceramic pots bursting with beauty!