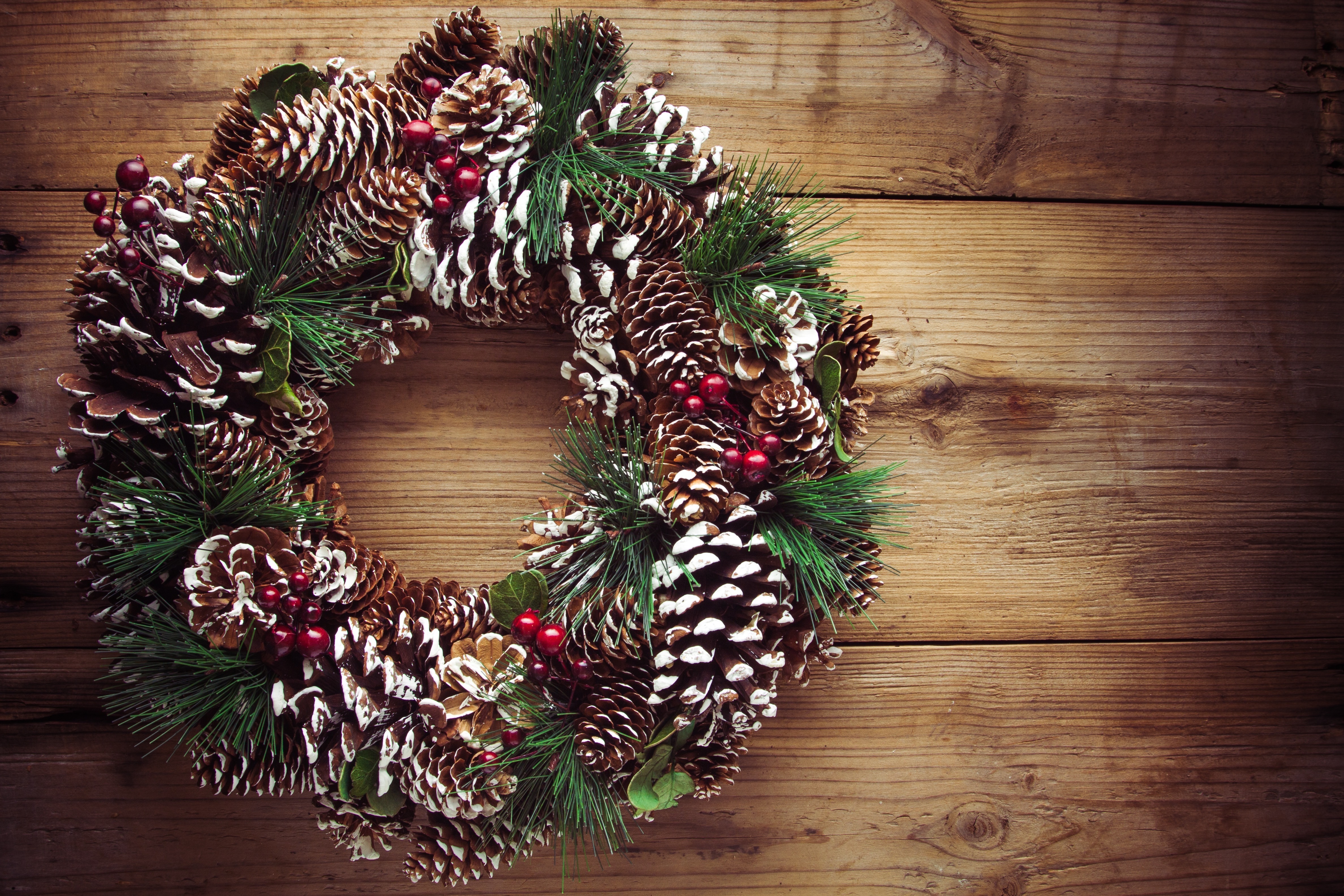 Creating a Wreath Is Rich with Tradition, But The Door to Creativity Is Wide Open!
A holiday wreath at the entrance to your home symbolizes welcome, warmth and hospitality, so creating one instead of buying one seems fitting. Give a little thought to the color of your door, the architectural style of your home, and the proper size. Then grab your keys and head to the craft store.
Arrive

home with a wreath form, snippers and a spool of green floral wire, which is like string that obeys you!
Protect

your work surface and gather your greenery, using branches cut from your tree, or beautiful alternatives like rosemary and eucalyptus. Mix and match, if you like.
Trim and group

the greenery into manageable bunches – like little bouquets – all about the same size.
Tie

the starting end of wire to the form securely and begin tightly wrapping the bunches by their stems to the form. (Keep the wire on the spool.)
Overlap

the bunches, placing one inward, the next outward, working in a continuous direction, snipping loose stems and shaping as you go.
Be generous, because abundance gives the wreath depth.
Tie off

the last bunch, leaving about 8˝ of wire, which can form a loop for the hanger. Make sure it's tightly wrapped to prevent "unraveling."


Decorating your wreath is the fun part, so grab your glue gun. Your menu includes – but doesn't stop at – pinecones, cinnamon sticks, jingle bells, ribbons, bows, tiny gift boxes, rosy red apples, a bright red cardinal, holly berries, toy soldiers, mini holiday stockings, shiny bells, snowflakes and candy canes. Think color! Red and green are wonderful, but you could experiment with less ordinary pairings like deep blue with silver, or burgundy with creamy white.
Arguably, the best wreaths tell a story of the family who lives behind the door. If you're beach lovers, add shells and a starfish. If you're a foodie, delight in the dozens of pasta shapes. If your daughter is a budding artist, incorporate some paintbrushes.
One holiday lover we know has a potluck wreath-making night each year, where friends can share the experience – and the materials. Her words of advice? "Make your wreath with an open heart and the result can't be anything but perfect!"
Speaking of "perfect," check out these top-of-the-line hoses from Teknor Apex.