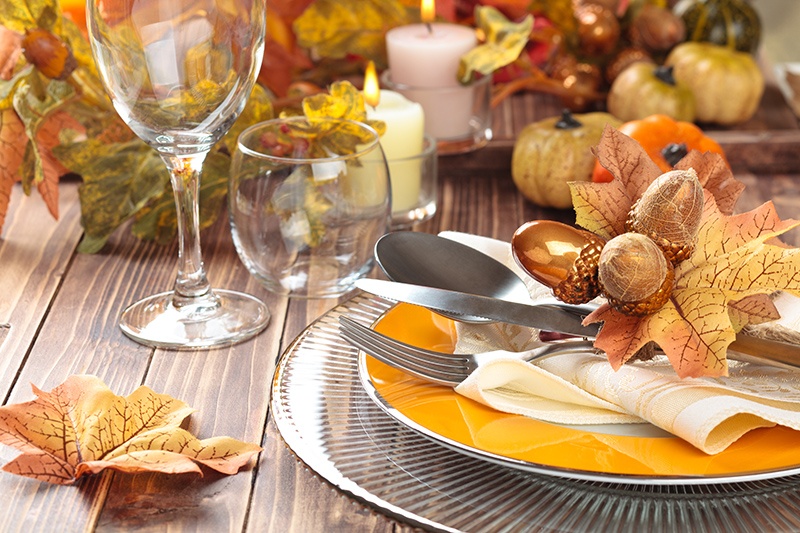 Creating a beautiful table is simple and affordable – and should be the first course of your holiday meal.
Everyone's coming, from Aunt Bev to Uncle Pete to cousin Jay's new girlfriend. You've been fussing over the menu for days, but the first "Wow!" should come when everyone enters the dining room. A stunning holiday table doesn't have to be fancy, fussy or pricey. With a little planning, you can create a holiday table setting that's worthy of your celebratory meal – and here are some ideas to make it happen.
Color is one of your most powerful tools. Keep your palette simple, with no more than three coordinating hues, and don't be afraid to think outside the lines. Expected colors – like burnt neutrals for Thanksgiving, or red and green for the holidays – are not mandatory. If you envision apple green and violet, go for it. Black, used with restraint, always guarantees eye-catching contrast. And don't forget about the elegance of metallics.
A trip to the craft store or dollar store is almost mandatory. The possibilities there can be overwhelming, so avoid the trap of excess. Edit your choices, making sure they coordinate in color, theme and size. Discover wide wire ribbon. Wrap the silverware or napkins with it, cut the ends diagonally and curl them around your finger. So pretty.
A large centerpiece delivers lots of impact, but can eat up valuable tabletop space. Instead, consider a smaller touch at each place setting. Pinecones, acorns, leaves, small branches, natural raffia, red holly berries – your choices are many. With discipline, adorn the light hanging over the table with garland, or hang sparkly snowflakes from it with neutral thread. Flickering candles add warmth, but forego tabletop flames in favor of the battery-operated variety.
If you've got it, take out the good stuff! Grandma's china, right down to the gold-trimmed gravy boat, is as special today as it ever was. Use its color palette as a starting point, or mix in some modern touches, like unexpected color or a feathery red cardinal perched on the edge of each salad dish.
Give your holiday table setting the same forethought as you devote to the menu, and you'll impress even yourself. Whether casual or elegant, traditional or unconventional, it will set the stage for an awesome holiday celebration.
Taking a holiday from yard work isn't always an option, so be sure you have the ingredients for year-round success. Check out the line of top-of-the-line hoses from Teknor Apex.