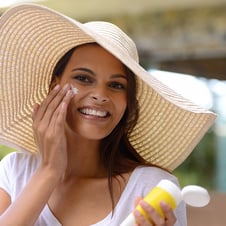 You Protect Your Petunias and Dote On Your Daisies – But Real Garden TLC Begins Indoors.
It's a beautiful summer weekend. The hedges need a trim, the lawn needs a mow and there's pruning to be done. It's time to put your gardening gear on – but first, this refresher course on "must-haves," for serious gardeners and yard putterers alike.
Block the Chance of Sun Damage
A senior golfer we know loves to show the tops of both his hands. Only one is covered in brown age spots, and he's first to tell you the reason: "I didn't wear a glove on that hand!"
We all know by this point how damaging the sun can be. Gardeners who are engrossed and focused are good candidates for overexposure to the sun. Wear and reapply a good sunscreen, with at least a 15 SPF. Especially think about the places that might get overlooked, like the back of your neck, and the tops of your ears, hands and head.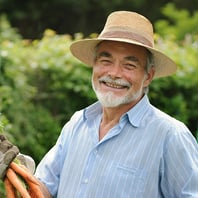 Choose a Hat That's Brimming with Protection
A straw hat is standard gear for yard warriors, but use your head when choosing one. First, make sure it fits loose and comfortable. After an hour or so, a tight fit is almost a guaranteed headache. Next, choose the widest brim you can find, for obvious reasons. And lastly, to get the most out of your gardening gear, avoid weaves that are too loose and airy, with gaps that are easy for the sun to shine through.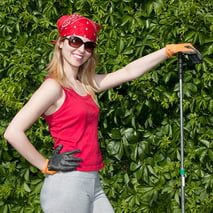 Focus on a Good Pair of Sunglasses
If there were ever a time for style to take a back seat, your choice of eye protection is it. In bright light, your pupils open wider – and if you're not blocking out 100% of both UVA and UVB rays, you're not doing enough (even lenses that appear solid black may not be effective). Pay attention to proper fit and comfort, even considering wraparound lenses for optimum protection.
The Big Picture
When it comes to being yard savvy, sun protection is a big part of the big picture – but not all of it. Let's be reminded of these additional precautions:
• Love the gloves. A gardener's hands can take a beating. Blisters, poison ivy and cuts are just a few of the perils they face. The best advice is to skip the garden-variety gloves and invest in a quality pair. Look for the features you need, like leather palms or elbow length.
• Open shoes are a closed subject. A big step toward safety is to never wear sandals or – gasp! – flip-flops for yard work. Sharp objects and thorny plants are just a few obvious reasons. The combination of exposed toes and power equipment just doesn't sound like a good idea.
• The buzz about hearing loss is true. Listen carefully to this fact. It's estimated that the average mower generates 90 decibels of noise, when levels above 85 are considered unsafe. So plug in some earplugs before you power up.
It's all about having the right gear for the job, so check out the line of top-quality hoses from Teknor Apex – and let us know which features you like best!