Choose the wrong hose for your RV/Marine vehicle and you could end up leaking away all your water, leaving you high and dry. However, if your hose is old, leaking, or broken, that doesn't mean you can simply slap on an old water hose and hope for the best. You need a high quality item specifically designed as a marine or RV water hose. But what should you look for in a potable water hose?How To Pick the Best RV Marine Hoses For Your Needs
Most people never think twice about it, but there's a reason most water hoses are colored green or black. Many hoses are actually color coded to make sure they're used appropriately. But there are a number of other qualities to look for when purchasing a new hose for your next camping or boating trip.
The Best RV and Boating Hoses Feature:
For potable water -- that's drinking water -- you'll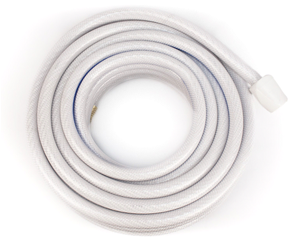 want to buy a white hose. Typically, that means it's been rated as drinking water safe. White hoses are manufactured with FDA approved materials. They're also totally lead safe in compliance with the Consumer Product Safety Improvement Act. Remember: never hook up a white water hose to your black or grey water tanks!
You'll also want RV/Marine hoses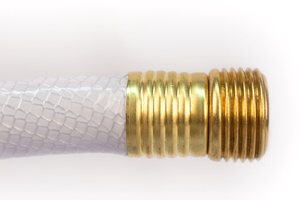 that never kink, tangle, or knot. Like Christmas lights left in the garage too long, hoses have a tendency to get all tangled up over time. When buying new water hoses, look for Never Kink hoses that won't tie themselves in knots.

The best hoses are also manufactured with a tight coupling, ensuring a leak-free connection at the faucet. This will ensure you aren't wasting water every time you turn on the tap.

RV/Marine hoses come in 1/2 to 5/8-inch sizes and 10 to 50 feet in length, although you can find them in up to 75 feet. For reference, water hoses are usually 1/2 to 3/4 inches. While 3/4-inch hoses deliver three times the water as the half-inch variety, you'll want to buy hoses that match up with the faucets in your vehicle.
So, is it possible to find a white water hose that's rated for potable water, never kinks, has a leak-free connection, comes in a variety of sizes, and was manufactured in the United States? Fortunately, the best hoses do feature all of these qualities and more. If you're looking to replace your RV/Marine potable water hoses, don't settle for anything less.
Finally, consider buying hoses that are Made in the USA!
Click to edit your new post...