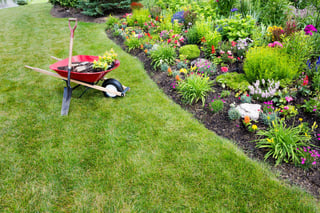 Gardening can be a calming activity yielding countless rewards (if it's done right). With over 100 million people gardening in the U.S., it's very likely that someone you know has convinced you to try your hand at it. However, getting started can be difficult, especially if you're not an experienced and devoted gardener already. Aside from asking your fellow gardening friends for advice, here are three things you need to keep in mind before you get growing with your garden!
Know your area
One of the most important things to keep in mind when planting a garden is the area in which you'll be doing it. Assessing the needs of different plants is important in determining where you can plant and what kind of maintenance you'll need to do. If you're planning a vegetable garden, for example, you need to make sure your gardening area is in a place where it will get at least eight hours of sunlight every day. Beyond knowing where you're going to place your garden, you'll also need to know what kind of plants flourish in your area. If the climate conditions aren't conducive to a particular plant, then you may not want to risk a failed attempt at cultivating it!
Protect your plants
It goes without question that if you take the time and energy to plant and water a garden, you care about the plants in it. It's for this exact reason that you need to think about protecting your garden from other harmful factors in the environment. Common yard critters are responsible for the majority of destroyed gardens. Squirrels, chipmunks, rabbits, birds -- if it lives in your yard, it probably wants a taste of your veggies! To help prevent unwelcome snacking from damaging your hard work, consider placing a fence around the perimeter of the garden. A sturdy wooden fence with the addition of chicken wire usually gets the job done with smaller critters.
Water, water, water
No matter what kind of garden you decide to grow, watering your plants frequently is an absolute must. To help water your garden, you're probably going to want to invest in a quality sprinkler hose. Sprinkler hoses are a hybrid between your typical garden hose and a sprinkler system, so they're a simple and easy solution for beginner and experienced gardeners. Any garden hose can last up to 10 years with the proper care and storage, so the better you care for your hose, the longer it will keep your garden growing! Depending on your garden's location, you can purchase sprinkler hoses anywhere from 25 to 100 feet in length. However, no matter the length, the important thing is that you keep your garden hydrated!
Keeping your garden growing shouldn't be too difficult at all once you figure out the gardening basics. In fact, your graden will most likely become something you enjoy and take pride in, not to mention something to get fresh vegetables from!