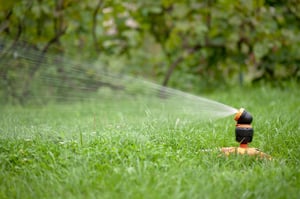 Are you obsessed with your lawn? We can't blame you. Spending a little extra time on your lawn or garden each day can be hugely beneficial to it. With some extra attention, your lawn can be the most attractive one on the block in practically no time at all!
One of the trickiest parts of maintaining a good front or back lawn, even with time and effort and especially if you live in drier part of the country, is distributing the proper amount of water evenly to all your grass.
Some common problems might be limitations on how much water you can use, all the way down to using a disproportionate amount of water on the grass, which can leave some areas looking better than others. Some patches of grass may be killed entirely by this procedure if not done properly.
From the devoted gardener at home to the restaurant owner needing large quantities of water, a good hose is paramount for a few reasons. Delivering potable water is vital -- you don't want to be watering your plants, filling a pool, or doing anything, really, with dirty water that's been stained by chemicals from the inside of a poor quality hose.
In tandem with good watering practices, your lawn can look like something straight out of a magazine in no time at all. A perfect construction! Below are a few handy tips you can use to make sure you're delivering the proper amount of water to your lawn without worrying about using too much of it, or damaging your crop. Take a look:
According to experts, the optimum amount of water for a standard lawn is about one inch per watering session. In order to deliver this amount of water, you'll need to put down around a half a gallon of water per square foot.
The most effective type of hose or nozzle for your lawn's sprinkler is one with a burst pressure of over 350 psi.
For ordinary home gardening, the best approach is to use a hose with a maximum length of 100 feet. This is to ensure you still get good pressure out of your hose instead of a trickle, or a buildup in the lines.
Whether you're into home gardening, commercial gardening, or are into jobs that require a ton of water (like construction) and have some tips of your own, share them below!