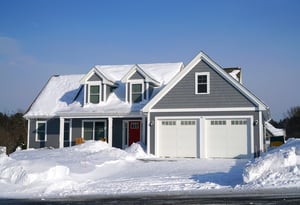 Preparing your home for the cold winter months to come is never easy, but it's even more difficult for the budding gardener. As seasonal vegetables begin to wilt, here are some essential tips and tricks for preparing your garden for the winter months to come.
Clean, clean, clean
Cleaning and sharpening your tools before winter will help improve the longevity of your equipment. Your heavy duty hoses should be tucked away safely in storage and cleaned of any grime that can corrode the plastic of the hose. If you can, try storing your never kink hose in a warmer environment, like your attic or closet to prevent contraction and expansion in cooler weather.
Any devoted gardener will remove old plants and unwanted leaf litter before the first frost hits. Though you may be tempted to let them remain under the snow, these rotting plants could harbor diseases, pests, and even unwanted fungi. While you're at it, pull out unwanted weeds, prune your perennial plants, and trim your shrubbery to make your job easier in the spring. Try burying these old plants, throwing them away, or adding them to your trust compost pile for great stock in the spring.
Replenish
Replenishing your soil and mulch will help keep your soil healthy until spring rolls around. When you prepare your soil, mix the dirt with elements from your compost pile, kelp, or even bone meal. This will help keep your soil active despite the cold which will help prepare your garden for spring.

Replenishing your mulch will also protect your soil from erosion when snow melts, help insulate the roots present in your garden, and keep weeds from invading your soil.

Preparing your garden for the winter can seem like an arduous task, but it will actually make your job much easier by the time spring rolls around. If your harvest this fall didn't go according to plan, you should look for other gardeners in the area to trade tips and tricks. Don't get discouraged as a new gardener -- these things take time.

If you want to prepare for the spring properly, you need to look at heavy duty hoses offered by Apex Hose. While your average garden or utility hose will range from 1/2 to 3/4 inches in diameter, our flexible garden hoses, heavy duty hoses, and never kink hose options are designed with the gardener in mind. Visit our website today to see our collection for the spring.