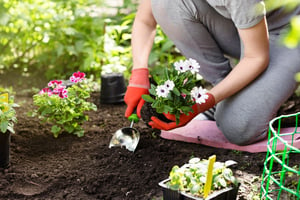 Growing your own fruits and vegetables or nurturing your favorite flowers from seed to bloom gives great satisfaction. Cooking for your family using your own home-grown produce in your recipes gives great pride. The proof is in the numbers. In recent years, research found that there are approximately 113.5 gardeners in the United States. Many a child has fond memories of their parent or grandparent harvesting the fruits of their labor and making something delicious with them. Cutting your own fresh stems from your garden to place in a vase and use as a beautiful table centerpiece for a holiday makes the event even more special. Growing bountiful produce and colorful flora requires the right equipment, particularly an effective water supply. But beware, not all garden hoses are created equally.
Experts tell us the best recipe is one inch of water per watering. To deliver an inch of water to your lawn requires about a half-gallon of water per square foot. Garden hoses are available in a range of sizes, from 25 to 100 feet. Diameter matters too. A half-inch diameter hose delivers approximately three times less water than a three-fourths-inch hose. A quality hose should operate in good shape for five to ten years. Investing in a quality hose will yield great results in your yard.
Flexible water hoses allow for easier tending to the garden as they withstand the tangle and twist issues that can cut off water supply. Neverkink® flexible water hoses are manufactured to self-straighten so that they can easily avoid kinks and eliminate the need to wrestle with your hose so you can spend more time enjoying your garden and its results. These hoses are patented and guaranteed to not kink or tangle. They are made with a rigid sleeve that works to prevent any kinks at the faucet connection. Included anti-microbial protection serves to keep the hose free of mold and mildew that can degrade the hose.
Don't let an old or lesser hose spoil your gardening time or get in the way of a job well done. A Neverkink® flexible water hose will help grow, maintain and sustain a plentiful garden that will feed your family and decorate your home for many years to come.