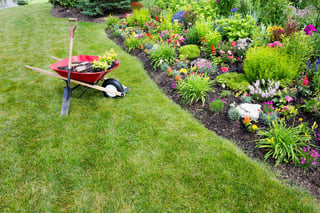 Gardening is one of the most popular pastimes in the United States. In 2014, there were over 113.5 million people in the U.S. who gardened either for their own pleasure, for food service jobs, or just to eat some healthy food for cheap.

Although millions of people enjoy gardening and do it quite often, there are still millions more that would love to become gardeners but might not know where to start. Here are a few things to keep in mind as a beginning gardener.
The Location is Key
The most important part about having a successful garden is the location. You want to make sure you're gardening in a place where it can get plenty of sunlight and plenty of water, but also is structurally protected by strong winds and other serious weather conditions that could otherwise damage your garden. Although the majority of people want to have an extremely large garden, smaller gardens are actually more efficient, as well as much easier to maintain. A great idea for the novice gardener is to start off using raised beds because it'll be much easier to access and manage the garden.
Don't Grow Out, Grow Up
People who use small gardens should grow as many of their crops on vertical supports rather than growing outward. If you're working with a lot more gardening space, you will also have to have plenty of physical support for your vertically growing vegetables. Some of the most common vegetables that are grown upward by trellising are cucumbers, tomatoes, pole beans, and peas.
Don't Ignore Your Garden... Ever
The easiest thing you can do to completely destroy your garden is simply ignore it a few days in a row. If you don't plan on really keeping up with the work and maintaining your garden, don't even bother starting one. Devoted gardeners always make sure their plants, crops, and vegetables are getting enough water and are properly cared for, and you should too. The best way to maximize the garden's productivity and growing area is planting crops in succession.
Focus on your garden's location, grow vertically, and provide plenty of water and attention to have a successful garden.