Research with hose purchasers overwhelmingly indicates a preference for hoses which offer light weight, easy handling, kink resistance and lasting performance.
The zero-G™ advanced hose design takes these must-haves to a higher level than ever before.
Compared to heavy duty vinyl hoses:
| | |
| --- | --- |
| | Up to 50% lighter weight |
| | Kink-resistant uninterrupted flow |
| | Easy to store – small and compact |
| | Tough G-Force™ woven fiber jacket resists leaks, abrasion and punctures |
| | 600+ psi burst rated |
| | Consistent, high flow equal to a conventional 1/2" hose |
| | Flexible and easy to maneuver even in cold weather down to 35°F |
| | Lead Safe - drinking water safe |
The Hybrid hose that elevates the advantages
of two hose technologies.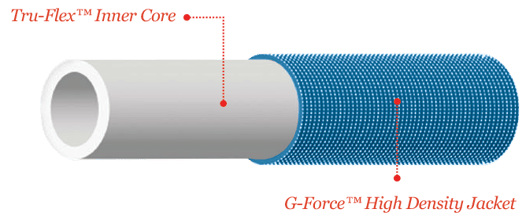 Tru-Flex™ Inner Core
Pliable inner core helps prevent kinking
Remains flexible in cold weather to 35 degrees
Easy to maneuver
Coils easily for storage
---
G-Force™
High Density Jacket
Durable, long lasting wear equal to commercial grade hoses
600+ PSI burst rated
Consistent high flow equal to a conventional 1/2"
Glides smoothly over surfaces; will not snag or tear
Puncture resistant
---
New Coupling Design



Ergonomic, aluminum couplings
Crush-proof up to 1,800 lbf
Lead Safe
Knurled' Male and Female for easy grip

---

Burst
An instance of breaking or splitting as a result of excessive internal pressure.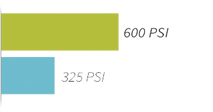 ---

Puncture Resistance in Pounds Force
Puncture resistance is a measure of the maximum force or energy required to penetrate a material.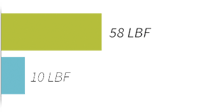 ---

Tensile Strength in Pounds Force
Tensile strength is a measurement of the force required to pull something such as a rope or wire to the point where it breaks.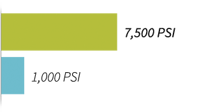 ---

Flow Rate
Quantity of liquid moving through a pipe or channel within a given or standard period (usually a minute or hour).

---
What is the intended use for the zero-G water hose?
zero-G can be used for all Porch & Patio applications as well as light professional needs, such as filling containers, mixing concrete, cleaning and drinking water.
---
What replacement coupling can be used with the zero-G product?
Can use a 3/8" connector male or female to replace coupling.
---
Can zero-G water hose be stored in hose reels?
Yes, zero-G can be used with most standard hose reels. Water will flow even when hose is not fully extended from hose reel. For storage, drain water from zero-G and then easily wind product into hose reel.
---
Can zero-G be used in hot water applications?
No, zero-G is not recommended for hot water use.
---